Probation for second man sentenced in Rehtaeh Parsons case
The second man charged in the court case surrounding the suicide of Canadian teen, Rehtaeh Parsons, has been sentenced to one year's probation.
Rehtaeh Parsons was 15 years old when she attended a party, including four male friends. She got drunk, and while vomiting out of a window, she was allegedly raped while other people took photographs. The notorious picture was circulated around the community and internet; Rehtaeh faced over a year of intense cyberbullying and online abuse before she attempted to take her life in a locked bathroom. Her parents took her off life support three days later and she died on April 7th 2013, aged 17 years old.
The man, who cannot be named as he was a minor when the alleged crimes took place, was sentenced to 12 months probation for distributing child pornography, which means that he won't spend any time in jail.
Leah Parsons, Rehtaeh's mother, read a heart-felt and emotional statement at the hearing.
I struggled and spent time contemplating whether to go ahead and write another victim impact statement. Every time I thought of writing one the thought would follow with "Why bother? What I say will have no impact on him or how he thinks moving forward in life." Then came the realization that I was looking at this statement all wrong. I don't have to speak to change your view, values and perspectives at all. That's where I was stuck.
I was stuck with wanting you to feel pain, remorse, regret. What a huge additional burden to carry because how could I possibly achieve that goal? I cannot. I also cannot feel defeated by succumbing to silence. No, that would be a shame for everyone who has been helped, everyone who found their voice and made changes in their community because Rehtaeh's voice came forward. Her voice was not heard while she struggled to be heard, but it sure is now.
Every day, I wake to a huge emotional void of love that I once called Rehtaeh. I promised Rehtaeh the first day I met her that I would protect her and nourish her life in every way possible. I did not foresee that I would have to shield her from such cruelty that she endured before she left this world. I was unable to console her as she crumbled emotionally after that photo was taken and circulated. People often say "How can someone's life come crumbling down due to a photo?" I'm here to say that is exactly what happened. I watched every moment of the tower crumble. Rehtaeh's tower of strength and the vibrance of a young person on the verge of embarking on her journey into adulthood.
While nothing exists in isolation, the photo set into motion a series of emotional turmoil. She was 15 years old when that photo started circulating; the cruelty she received would have been too much for an adult to endure, let alone a child. Her words continue to haunt me: "Mom, I'm too young to have all these emotions, I just want my friends and my life back." "Mom, I feel like I am waking each day into a nightmare." While trying to get her the help she required, I lost my daughter. She was never the same person again but she kept trying. She tried to defend herself constantly.
In all honesty, I was crumbling right alongside of her, seeking some sort of resolve to move forward. She never understood how someone could be so cruel. What could she have possibly done so wrong for someone to share that photo with others? She could not comprehend that and neither could I. What would be the motive other than to harm Rehtaeh on a very deep level by ruining her reputation? A community she once bragged about became one that she feared. Fear of being ridiculed. You may say she was too sensitive, but, you see, that was always her strength. Rehtaeh's strength was always that she CARED deeply and in the end her loving nature became engulfed in a tunnel of self-doubt and lack of worth.
I know that Rehtaeh did nothing to deserve that type of treatment. I know she was not cruel or mean to you [name removed]. You probably knew nothing about her whatsoever. Did you know she loved to read, would drop everything to help an animal or friend in need? That she was bright and funny? Did you know she had two little sisters that she adored? Did you know that the day she was born she changed my life for the better? After she was born I spent the next seven years in university and she was my driving force. No, you would not know these things because you never took the time to view her as a person.
That night Rehtaeh was viewed as an object, and instead of helping her you posed for a photo and shared it with others.
I want to read an excerpt that Rehtaeh wrote in her high school journal just two months before the night in November 2011.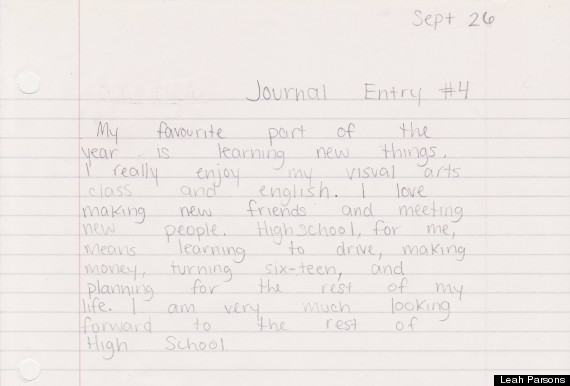 She didn't get to see any of those goals listed and she never will.
I'm not going to go on about all the struggles I now have to endure just to make it through the day. I will say that I always believed Rehtaeh would make an imprint on this world. I just never imagined it would be at such a young age and it would cost her her life. Our family lost a huge part of us but so did society in general, and in our loss we gained insight, wisdom and direction. A spotlight has been cast on the distribution of photos without consent and my only hope is that others will continue to learn from our tragedy.
Toronto lawyer, Erin Ellis, who represents victims of sexual assault, said it was troubling that no charges were laid until after Rehtaeh had committed suicide. The only positive thing, she said, is that Rehtaeh's tragic death has since led to legislation that criminalises cyberbullying in Nova Scotia.
"It's sad that it takes cases like this to spur that kind of reaction," Ellis said. "But it's nice to know there have been some results since."
If you have been affected by issues related to this story and need help with cyberbullying, please Contact Us.